January 2021
Researchers in University of Iowa Department of Orthopedics and Rehabilitation receive three-year grant funding for clinical study of post-traumatic osteoarthritis
The Arthritis Foundation has awarded University of Iowa researchers a three-year, $928,249 post-traumatic osteoarthritis (PTOA) platform grant as part of their Osteoarthritis Clinical Trial Network (OA-CTN).  UI faculty Don Anderson, PhD, and Larry Marsh, MD, are co-principal investigators on this grant, which leverages prior funding from the Orthopedic Trauma Association. Anderson, a professor of orthopedics and rehabilitation, holds the Richard and Jan Johnston Chair in Orthopedic Biomechanics, while Marsh holds the Carroll B. Larson Chair and is a professor and department executive officer of the Department of Orthopedics and Rehabilitation.
The overall goal of the OA-CTN is to accelerate approval of better treatment options for patients while reducing the burden of trial duration, patient participation barriers, and costs for studies in osteoarthritis. The specific goal of the PTOA platform is to facilitate proposals for interventional or epidemiological research. 
"The objective of this research is to expand upon our previous work to establish accurate, reliable weight bearing CT (WBCT)-based 3D imaging markers for early diagnosis of PTOA after an intra-articular fracture," said Marsh. "WBCT is an emerging technology that provides CT reconstructions of the lower extremity, obtained while a subject is standing, at a radiation dose equivalent to a few standard radiographs."
"Our multi-institutional group (at the Universities of Iowa, Utah, Washington, and Kansas) is poised to perform the requisite studies to validate these WBCT markers of PTOA. Coupling the markers with methods for assessing mechanical risk factors that use images from the WBCT will enable better prediction, improved understanding, earlier diagnosis, and more meaningful longitudinal and long-term assessment of PTOA," said Anderson. "This will lead to better-informed treatment decisions and provide a robust framework for the clinical testing of new biologic treatments to prevent or forestall PTOA."
Grant Team members include:
Co-Principal Investigators:  Don Anderson, PhD, and Larry Marsh, MD
Other key investigators at University of Iowa:  Mike Willey, MD, Cesar de Cesar Netto, MD, PhD, Natalie Glass, PhD, and Catherine Fruehling.
Additional collaborators at other sites are:
University of Utah: Justin Haller, MD, and Thomas Higgins, MD
University of Washington: Conor Kleweno, MD, and Julie Agel
University of Kansas Medical Center: Neil Segal, MD, MS, and Bryan Vopat, MD
April 2017
Drs. Jessica Goetz and Yuki Tochigi were recently notified that their research, funded by the U.S. Department of Defense Peer Reviewed Orthopaedic Research Program (PRORP), is being highlighted on the Congressionally Directed Medical Research Programs (CDMRP) website.
August 2016
Two of our undergraduate student staff members, Andrea Caceres and Jessica Mosqueda, presented posters at the recent American Society of Biomechanics Annual Meeting in Raleigh, North Carolina.  Both Jessica and Andrea are seniors who will graduate in December with a B.S. in Engineering.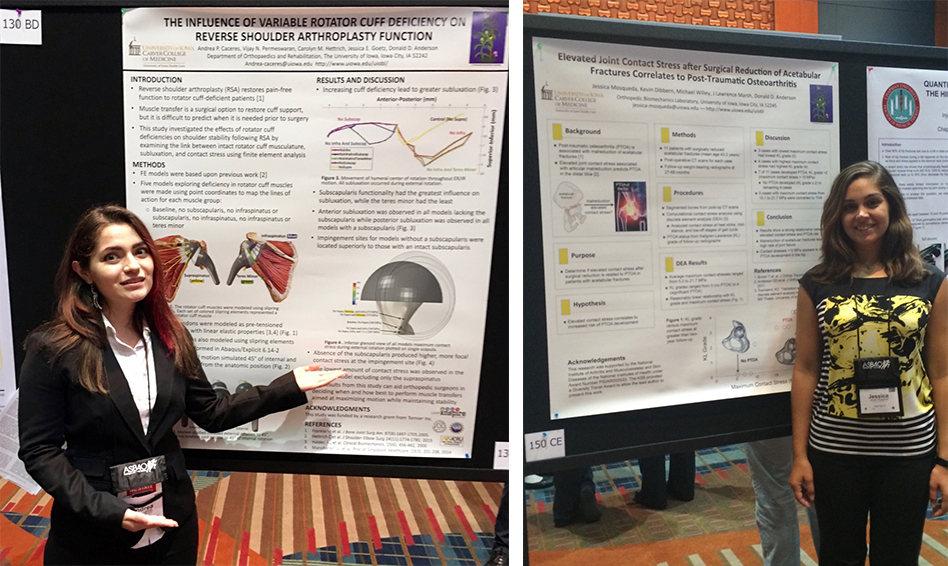 July 2016
In addition to working hard in the lab, many of our members also like to stay physically active!
Steven Long, a graduate research assistant, ran in the Boston Marathon in April with a finish time of 3:48:20.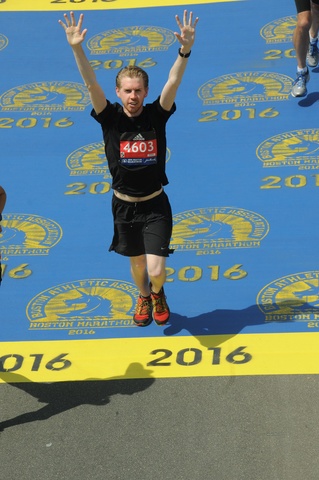 On Saturday, July 9, members of the UIOBL participated in The Color Run in Des Moines, IA.  The Color Run, the world's first COLOR 5k™ event, was founded in March 2011 as an event to promote healthiness and happiness by bringing the community together to participate in the "Happiest 5k on the Planet". The Color Run is a five-kilometer, un-timed event in which thousands of participants, or "Color Runners", are doused from head to toe in different colors at each kilometer. As a for-profit event management company, The Color Run has donated more than $4 million to charity.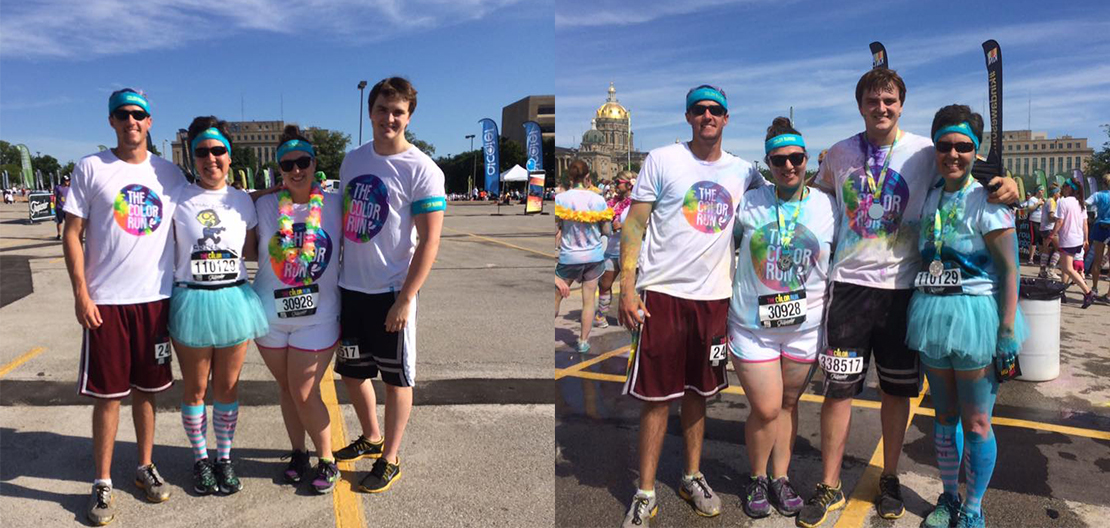 David Heckelsmiller, a graduate research assistant, is a member of the University of Iowa Triathlon Club and recently participated in the Copper Creek triathlon, a sprint distance race in Pleasant Hill, IA, which consisted of a 750-meter swim, a 20-kilometer bike ride, and a 5-kilometer run.  David placed 9th in the Men's Collegiate Division.